More Cool Stuff
Page 1
Page 2
Page 3
Page 4
Page 5
Page 6
Page 7
Page 8
Help Others
---
When and How Will the World End crochet How to Beat Depression rag rug Plus Size Knitting Patterns
Crochet Rag Rugs
Learn how to make Crochet Rag Rugs. Rag Rug Patters, Instructions,
Kits, Loom and more. Rag Rugs for Sale.
Crochet rag rugs are not only beautiful, they are also a great way to recycle those old clothes and bed sheets.

Making rag rugs is an activity that can be enjoyed by all ages. Handmade rag rugs are fun to make and are a great gift giving idea. I have been making homemade rag rugs for many years now and I sell them in some local stores in my area. Crocheting rag rugs is a therapeutic and inexpensive hobby that can be done while traveling or at home.

This is one of the round rugs that I recently crocheted. Round area rugs are one of the easiest types of rugs to crochet.

Pictured (below) are old bed sheets that I purchased at a rummage sale for a few dollars. I also find sheets and old cotton curtains at local second hand stores that are priced inexpensively.

Sheets are great for making throw rugs because they are 100% cotton and come in a variety of colors and wash well. They also tear or cut easily into one or two inch strips needed to make crochet rugs. Be sure to choose sheets and curtains that have interesting patterns and colors. When choosing colors for your crocheted rug use a variety of bold colors that will give your rug charm and pizzazz.
---
Check out these Crochet Rag Rugs and Patterns
Affiliate links from EPN
---
---
Check these Out
---
Crocheted rugs can be made into a variety of shapes and sizes. Some styles include, round rugs, kids rugs, heart shaped rugs, kitchen rugs, oval rugs, rectangle rugs, country rag rugs, square rugs, star shaped rugs ect.

Pictured below is a crochet rug that I am working on using old scraps of material and bed sheets. Crocheting rag rugs using old worn out material is a great way to make cheap rugs.

I cut the material into one inch strips and used a size "K" crochet hook, single crocheting. You can use other sizes of hooks and material strips depending on how thick you want your custom rugs.

For the round crochet rug start by tying a slipknot in fabric end and then chain crochet 4 more stitches. Insert hook in first knot and begin double crocheting and continue around until you have the desired size.

Be sure to add in extra crochet stitches so the rug doesn't curl up and not so many that it will become wavy. I have added a You Tube module below that will give instructions and help with joining strips together.
---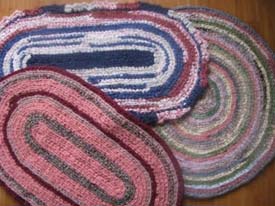 ---
Susan Dietel
Web Programmer
Email: susansdesign@yahoo.com