More Cool Stuff
Page 1
Page 2
Page 3
Page 4
Page 5
Page 6
Page 7
Page 8
Help Others
| | | |
| --- | --- | --- |
| | train | |
---
When Will the World End live On30 Model Railroading steam N Scale Model Railroads train Train Horns
TT Scale Trains live DCC steam Natural Cures for Disease steam Depression and Its Cure
Live Steam Trains
Live Steam Trains for Sale. Live Steam Locomotive Products, Supplies, Books, Magazines.
How to build a Live Steam Train. Garden size and large Scale Trains you can Ride.

Jim Dietel's Live Steam Train at St. Croix Railroad.
My uncle Jim (Husbands uncle) has a membership at the St. Croix Railroad Club near Hudson Wisconsin. He has two Live Steam trains and we like to visit and ride on them. Scroll down for several photos of our adventures.

Uncle Jim belongs to a club that has their own railroad layout. There are realistic bridges, tunnels and even a water tower. Along the track are real signals that turn red or green depending on who is on the track. Sidetracks are available for slower trains to get off and out of the way of faster ones. All this on nine wooded acres. The tracks meander between the trees and makes for a fun ride.

Most of these are hand built with loving care but there are few that you can purchase if you want to hurry up and get started.

Jim Dietel's Live Steam Train at St. Croix Railroad.
Live Steam means that most of the trains are powered by steam but many of the trains at these railroad clubs also use electricity, gas, propane and other fuels. Uncle Jim has a third train that runs on gasoline. Most of the Live Steam trains are handmade but you can also get kits or buy a train someone has already built. The St. Croix Railroad club is on 9 acres and has many tunnels and bridges and is open to the public on some weekends. You can ride the trains for free, but donations are encouraged.

Live Steam Trains have become more popular over the years because they offer the benefit of real steam engines at a lower cost and in less space than standard trains. These trains can hold many passengers and you can experience the thrill of a real steam locomotive without the expense.

Train Mountain has the biggest live steam layout with over 25 miles of track and is located in Chiloquin, Oregon, USA.

The scale for the Live steam train is means number of inches of scale per foot. A good example would be a 1:8 scale train would mean 1-1/2 scale and so on. Gauge means the distance between the rails. Live steam
trains that you ride have gauges usually between 2-1/2" to 15".

Find more products like locomotive supplies, books and magazines. How to build your own that you can ride. Garden size and more.

Photo below - Uncle Jim is almost invisible as he stands behind his steaming engine.

---

More Live Steam Trains for Sale
---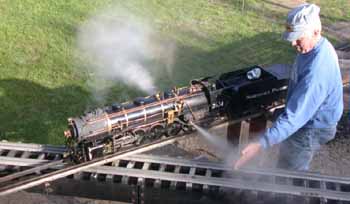 Jim Dietel's Live Steam at St. Croix Railroad.

Jim Dietel's Live Steam at St. Croix Railroad.
---
| | | |
| --- | --- | --- |
| Live Steam Trains | | More Live Steam Trains |
---
Check out these Live Steam Train Products (Just move mouse over or click to see information)
More Live Steam Train products
Build Live Steam Trains
Live Steam Magazines
---
Susan Dietel
Web Programmer
Email: susansdesign@yahoo.com
Link to my webring page for this topic