More Cool Stuff
Page 1
Page 2
Page 3
Page 4
Page 5
Page 6
Page 7
Page 8
Help Others
---
When Will the World End Susan Reid Depression and Its Cure
Sue Reid Memorial
Sue (Susan) Reid passed away February 12, 2014. She was living in Klamath Falls, Oregon and had 6 adopted children. This page is a memorial about her from a friend, Susan Dietel (Wagner) who helped her run a foster home for close to 20 years and I will really miss her. To express my grief I put up this page and hope others will find it helpful.

I first met Sue at Milo Adventist Academy but we didn't become close friends until we roomed together at Walla Walla College. When college fizzled out for both of us we moved to Klamath Falls, OR, near her folks who helped set us up in the foster home business.

We had 5 foster adults who were mentally retarded and this gave us a great job where we could work from home. Sue's biggest passion was children and so she decided to adopt some. All together she adopted six children who are all mostly grown up now.

Eventually I moved away to Wisconsin to marry my husband James and we have plans to someday move back to the West Coast when our Heavenly Father opens the way.

Sue was 55 when she died and this was way to young to go. However now she is sleeping in Jesus and from her perspective it will be just seconds before she hears her Saviour call her name and raise her back up to life. It is as if she has stepped aboard a time machine and is hurling toward the future to when Jesus comes again.

One of the first things she will do after being raised back to life is to look for her children, family and friends. She will want to unite with all of us. After the hugs are done she will notice that there are a lot of babies that were raised to life and have no mothers there. I expect she will take at least 20 of them and mother them up in heaven. She has enough love to spread to many more.
Here Sue is posing in front of 5 of her kids. They don't look very enthusiastic to be part of the photo but Sue was happy.

Here is a collection of photos that I want to share with you from her life. Some of them you may already have. Others may be new. I welcome family and friends to copy them for your own if you wish.
---

Sue ready for church at the apartment we shared in Collage Place, Washington.

Photo on the right shows her crocheting. Sue really loved to crochet and I can remember her sitting on the couch wherever we lived busy at making something. One time she won first place for her work at the local fair so she was very talented.

It is interesting to note that this photo is taken inside the first home we rented once we moved to Klamath Falls. It was a tiny trailer with an add-on and was just a few houses away from where she was living when she died.
---
Sue enjoyed life and had a lot of fun. One time we took the whole bunch to the beach. Bobi was there to help us and you can see her and Aaron in the background. I think Sue was embarrassed to have me take a photo of her playing in the waves.

The photo to the right is her posing for a picture that she could use when she joined Adventist Contact. She wanted to get married someday but when someone would write she would be reluctant to write back. I think she got cold feet.
---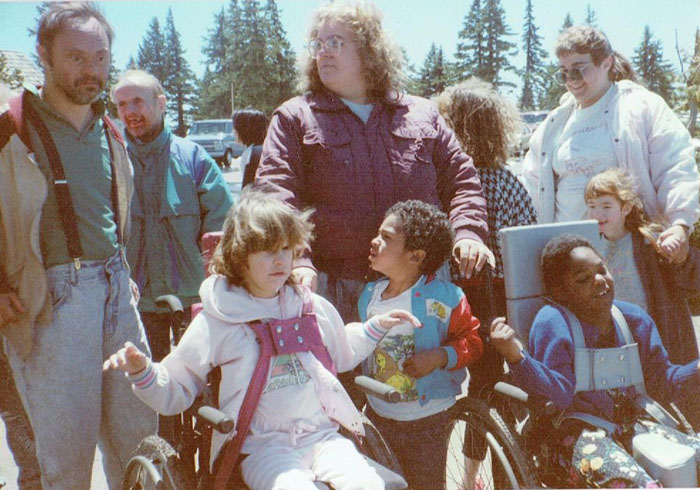 I think this photo was taken while we were still on the beach. If you remember differently let me know. My email is at the bottom of this page. It wasn't easy staying in tents with all our foster adults and the kids but we managed and had fun.
---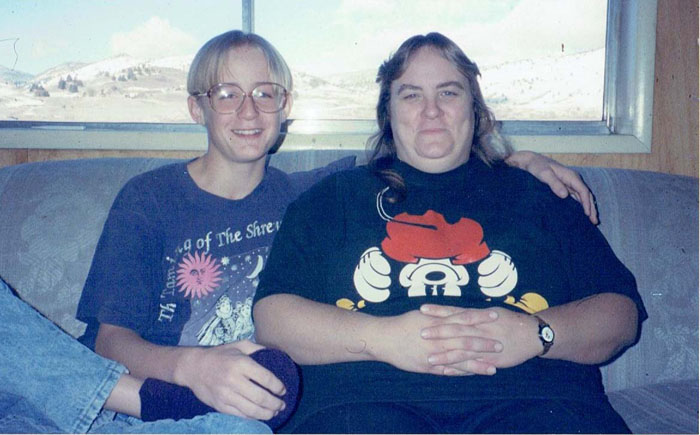 Sue and nephew Stan. Notice that Stan has Sue's glasses on.
---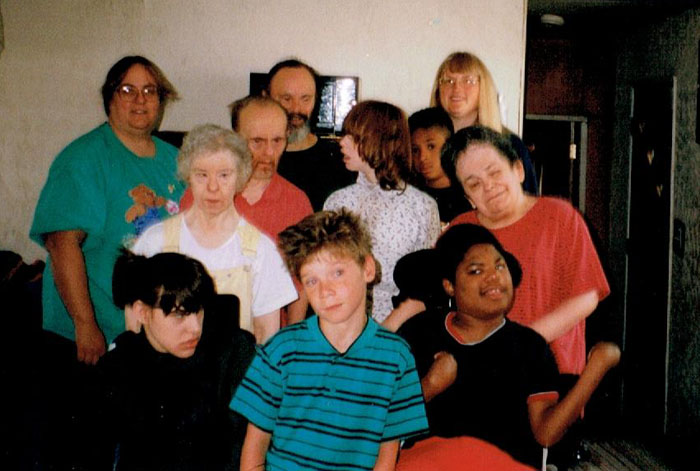 All of us when we had the foster home. Again, except for Tasha, Sue and I, they don't look very enthusiastic about being in the photo.
---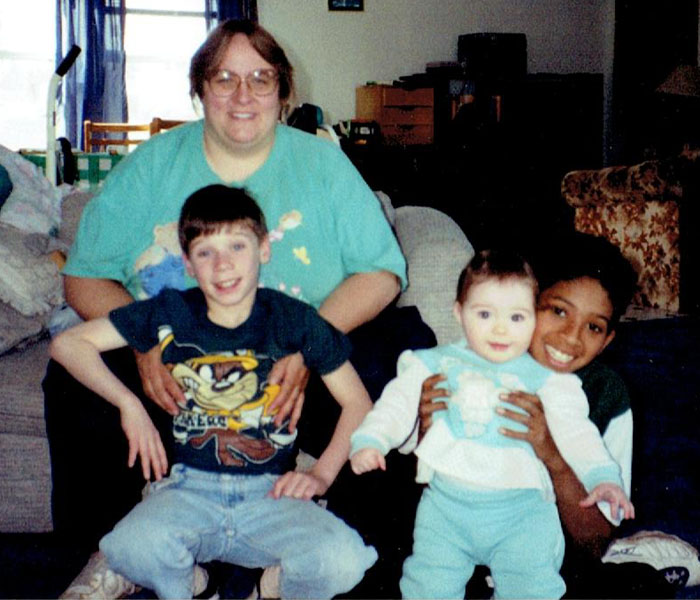 This photo was taken after we quit the foster home business and I was house sitting for my mom over in Rogue River. I came back for a visit and had them pose for a picture.
---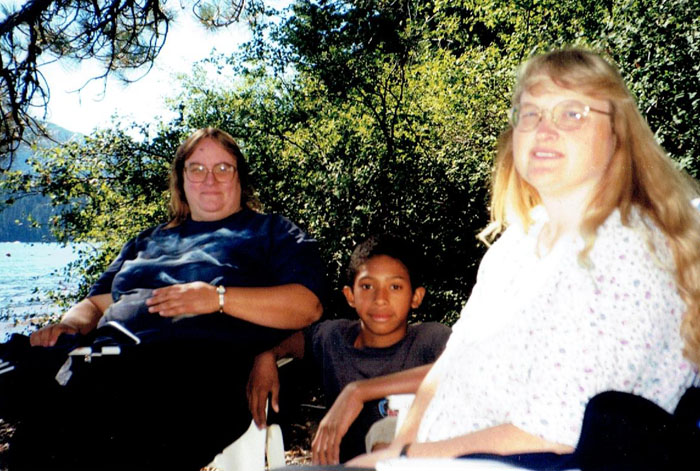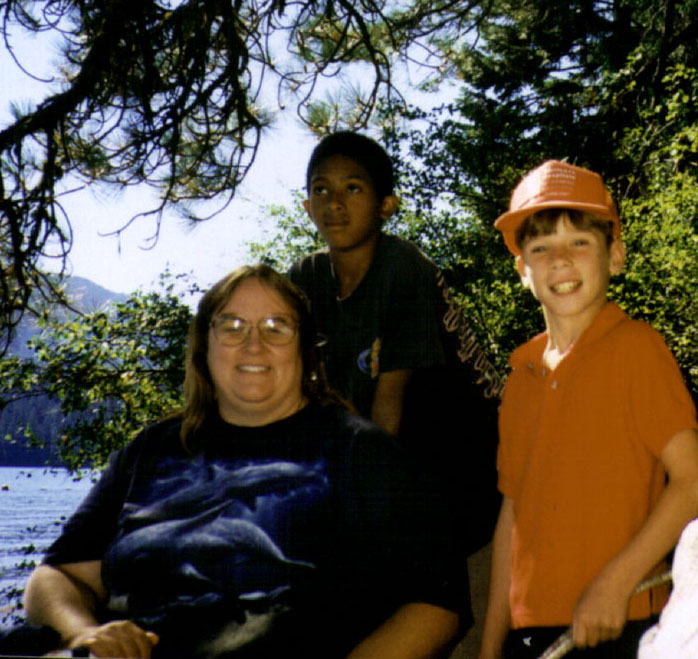 Sue and the kids came and met me at Lake of the Woods. My sister's were with us and we had a picnic and enjoyed each other's company.
---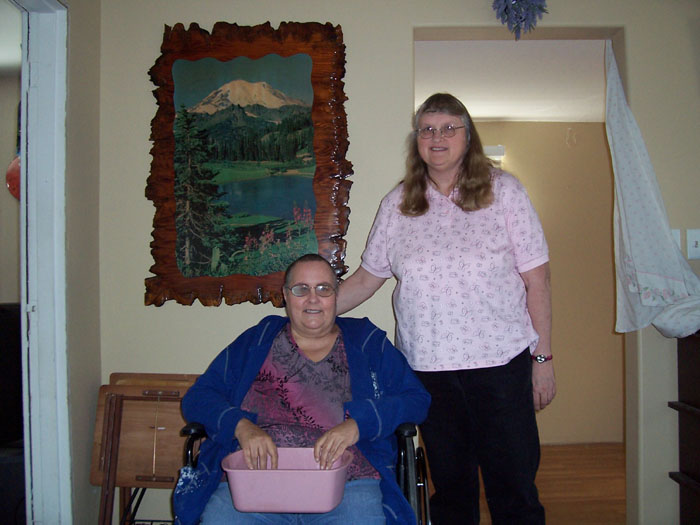 My last photo with Sue. My Husband and I took the train from Wisconsin to visit with the family and to see Sue. My only regret is that I should have changed our visit to come later in the day so to catch more of Sue's family.

About four months after this photo was taken Sue died from cancer. For awhile it looked like she was recovering. My second to last phone call with her was when she was taking a Sabbath afternoon drive with Bobi driving and kids in the back. She has her cell phone with her so was able to take the call from me. She kept laughing at what was going on in the car and everyone was having fun.

Then my last call was Sabbath February 8, when her mother called me and told me that Sue had taken a turn for the worse. She had been in the hospital and was not doing well at all. Sue was so weak that her mother had to hold the phone to her ear so I could talk to her. She replied but it was hard to understand what she said. However when I told her that, if I did not see her again on this earth I would see her in heaven, she said a decisive, "Yes."
---
Sue's sister Bobi put together a memory video of Sue. She is playing the recorder and does all the parts. I think she did a great job!
---
Susan Dietel
Web Programmer
Email: susansdesign@yahoo.com
---