"The major named varieties include:

Kohaku - a white-skinned Koi, with a red pattern
Taisho Sanshoku (Sanke) - a white-skinned Koi with a red and black pattern
Showa Sanshoku (Showa) - a black-skinned Koi with a red and white pattern
Tancho - Any koi with the only red being in a circle on its forehead. The fish can be a Tancho Showa, Tancho Sanke, or even Tancho Goshiki
Asagi - a Koi with light blue scales on its top and red scales on its bottom
Shusui - the partially scaled version of an Asagi
Bekko - a white, red, or yellow-skinned Koi with a black pattern
Utsurimono - a black Koi with a red, white, or yellow pattern
Goshiki - a mostly black Koi with red, white, brown, and blue accents
Ogon - a Koi that is one solid color, can be regular or metallic; known colors - red, orange, platinum, yellow and cream
Ghost koi - "Hybrid" of Ogon and wild carp. Not Nishikigoi.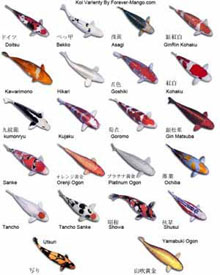 Kin Gin Rin - a Koi with shiny scales. The name translates into English as " Gold Silver Scales" There are also Gin Rin versions of almost any other type of koi.
Kawarimono (kawarigoi) - Miscellaneous types of Koi
Doitsu-goi - German Carp
Koromo - Koi with areas of blue-edged scales aligned neatly
Hikari-Moyomono - Koi with coloured patterns over a metallic base, and koi in two metallic colours
Butterfly koi - Long-finned version of all others. Not Nishikigoi."
This information on varieties is found: Wikipedia Encylopedia
Commissions Earned